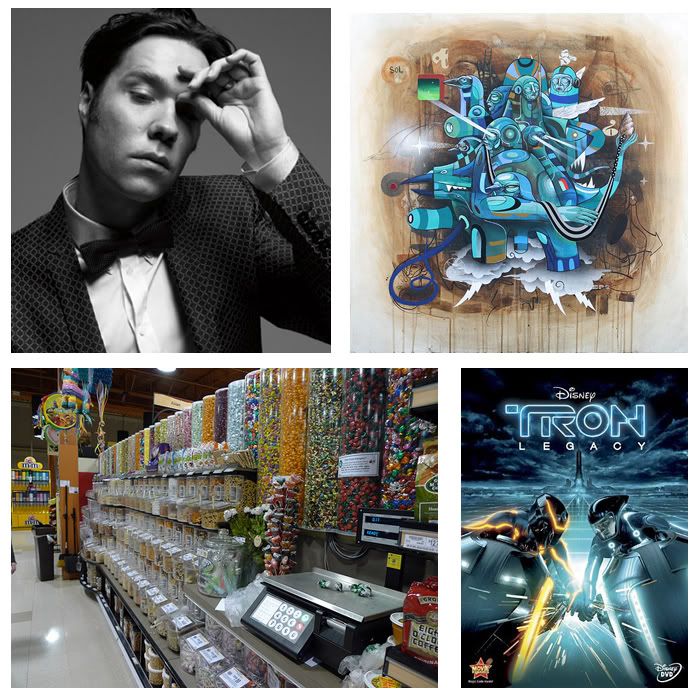 Rufus Wainwrigh
t-He's been my favorite musician since college, and I thought it necessary to include him in the first All About It. If you haven't really heard anything by him I'd suggest starting with the songs "Tower of Learning" "Tiergarten" or his amazing cover of the Beatles' "Across the Universe"
Doze Green
-From NYC, Green has been producing art since the late 70's, where he played a role in the early hip-hop/graffiti movement. Today his work is utterly jaw-dropping, in technicality, subject-matter, and color. Continuous line work and an abstraction of figures compose intricate scenes of polytheistic deities warning contemporary society of its sacrilege.
Bulk Candy Aisle
-All GIANT and Wegman's in the Tri-State area, beware. If you have a bulk candy section and I'm in the area, expect to be low on gummy strawberries and zagnuts when you're doing inventory. This is probably wrong, morally and sanitarily speaking, but there's something about taking a stroll down this aisle and swiping some of your favorite candy that is so gratifying. The downside, if I'm ever caught and prosecuted, will be telling my fellow inmates that I'm there for shoplifting...candy.
TRON:Legacy
-This is my guilty pleasure entry to the list. I'm a big fan of movies with good plots. You know, the ones with plots so intricate and compelling, with developed characters that you learn and care about throughout the movie? This is not one of those movies. Is it, however, a movie with Jeff Bridges, a Daft Punk-led soundtrack, and enough nerdy digital landscapes to keep me happy. It's due out for release April 5 and I'll probably end up owning it.
So those are my four picks of what I love right now and what influences me. If you discovered any that you like, that's great. I'd also like to hear from anyone reading if you have any suggestions of bands/music to check out or artists or anything that you love doing right now that brings a little happiness into your life. Let me know and comment below. Thanks!