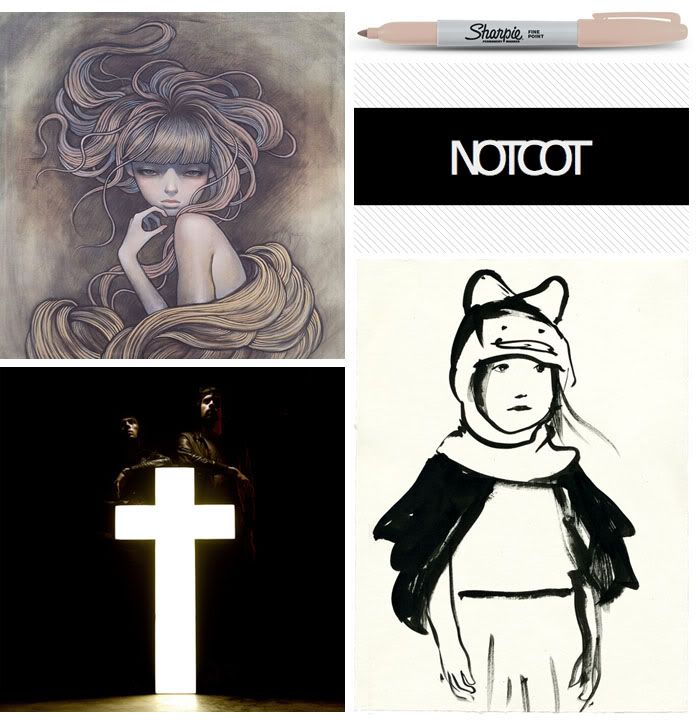 Audrey Kawasaki
-Her work is described as "contradictions within themselves...both innocent and erotic." Kawasaki is best known for sensual depictions of the female form delicately painted on wood panels, and is really the "it" artist I feel that everyone's talking about. She is definitely an artist to add to your social vocabulary.
Sharpies
-If you know me personally then you know I have about 100 of these so I gotta give props to one of the most versatile markers out there. They have great longevity, consistent, predictable flow, a wide range of colors, and several available tips just to cite a few features of this mighty little marker.
NOTCOT.Com
-There are a few great sites out there like this, but I don't think any do it better than NOTCOT. With the slogan "IDEAS. AESTHETIC. AMUSEMENT.," they introduce the reader to everything from rare, limited edition Porsches to a new Nitro Ice-Cream Parlor in London to emerging, innovative designers and artists worldwide.
Justice
-Everybody who likes Justice has been feeling the itch for a new album for at least a year, and it's finally here...at least it will be in a couple months. The first single, "Civilization," just hit iTunes.
Lotte Klaver
-Can you create peculiar, atmospheric drawings with personality simply using a brush and some India ink? Lotte Klaver can. It may look easy to some, but capturing the essence of a form, a moment, or an emotion with a few, gestural brush strokes requires talent and skill. Her website
www.lotteklaver.nl
is in a blog format, which she updates daily, so it's a great place to go every once in a while for a reprieve from one's busy day. Great and inspiring artist.