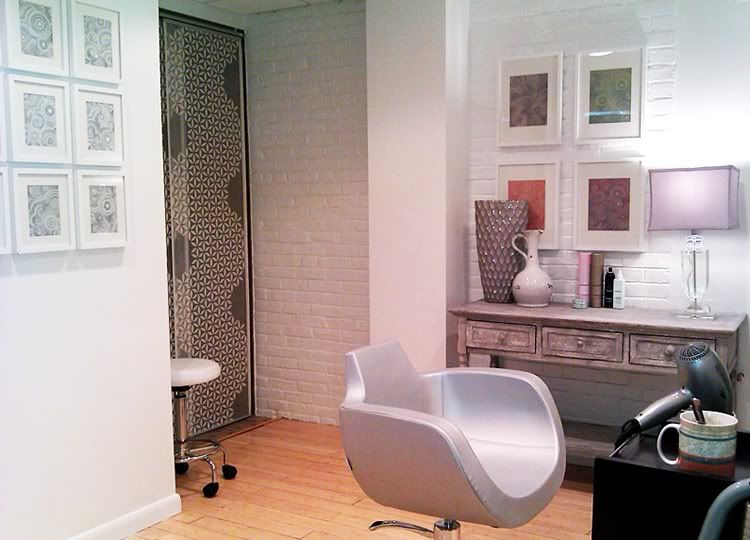 Yesterday two of my abstract series went up at Luxe Salon and Spa in Lancaster, Pa. They ended up looking great I think, adding some needed subtle color and interest to the room.
If you're familiar with Luxe, you can see these pieces in owner, Nate Fox's private room which looks out over the main lobby of the salon. If you're not familiar with Luxe, you should definitely check out all they have to offer. You can visit their website
here
to find out more about it as well.
I absolutely recognize the importance of showing my work and gaining exposure as I progress, and so I'm currently pursuing several different venue opportunities to display my art. That is so important to me right now because as I keep making and making, I want the opportunity to offer my art and products to as many people as I can.
In addition to this I'm now working on my first solo show, which is scheduled for April, 2012 at Mulberry Studios in Lancaster, PA. I'm diversifying my work in so many ways, some of this being the actual size and materials that I'm using. For the most part, I'll be creating much larger, mixed media pieces, which from the feedback I've received so far, people will really enjoy. The overall goal of this new work is to create a more upscale, polished image that contains more color and depth. I would ultimately like to see these pieces owned by a wider demographic ranging from businesses to family homes to college dorms.
So this month, thankfully like the last, will be absolutely packed with things for me to do. I am so grateful for everyone that has given me encouragement and support as I continue working on my dream. Thank you all very much. Also, make sure you check back soon because the first run of
T-shirts
will be available in the coming week. You're going to love how they look and fit!